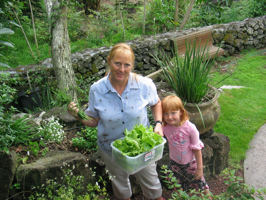 Dee's spicy pumpkin soup
(a Robbins tradition for the fall weekend when we need to do something with our pumpkin)
Dee's been experimenting in the kitchen and has come up with a really good pumpkin soup recipe…
one that is destined to become a Robbins Family tradition.
5 Tbsp unsalted butter
2 medium yellow onions, chopped
2 teaspoons minced garlic
1/4-1/2 teaspoon crushed red pepper
2 teaspoon curry powder
1 teaspoon allspice (groun
7 cups of cooked

pumpkin




or 3 (15 oz) cans 100 percent pmpkin
5 cups of chicken broth
1 1/2 cups of of canned unsweetened coconut milk
4 teaspoons brown sugar
Melt butter in a 4-quart saucepan over medium-high heat. Add onions and garlic and cook, stirring often, until softened, about 4 minutes.
Add spices and stir for a minute more.
Add pumpkin and 5 cups of chicken broth; blend well. Bring to a boil and reduce heat, simmer for 10-15 minutes.
Transfer soup in batches to a blinder or food processor.
Cover tightly and blend until smooth.
Return soup to saucepan.
With soup on low heat, add brown sugar and mix.
Slowly add coconut milk while stirring to incorporate.
If too spicy, add cream to cool it down. Add salt to taste. (Serves 8)
• To make pumpkin puree from your jack-o-lantern: after seeds and stringy stuff are removed, cut in sections and lie face down on a tin-foil lined baking pay. Bake at 350ºF until soft, about 45 min to an hour. Cool. From the hardened skin, scoop out the flesh to use. Freeze whatever you don't use for future use.