Water For Life & Fanning Atoll
A collaboration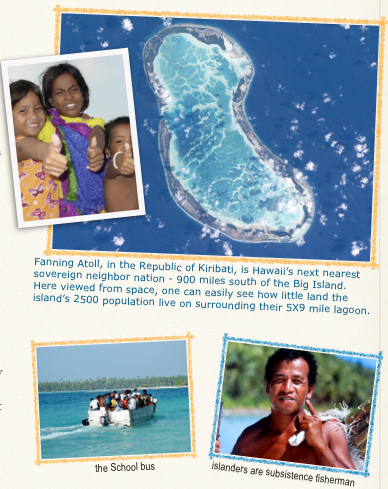 As part of YWAM's Water For Life initiative, Allan often teaches practical ways to get clean drinking water in our Discipleship Training School's and for various teams heading to the field. However, in 2005 Allan helped lead a small Water-For-Life team to our next nearest neighbor in the Pacific, Fanning Atoll, 900 miles south of us in the Republic of Kiribati. There is no electricity, no telephones, no cars or airstrip. And they are only visited by a supply freighter a few times a year.
The 2,500 islanders who live on this remote atoll have a water problem. They get their water from shallow open wells that are heavily contaminated with human waste. But in addition to the waterborne diseases they must contend with, the water is so brackish with intruding salt water that they routinely add sugar to make it palatable enough to drink …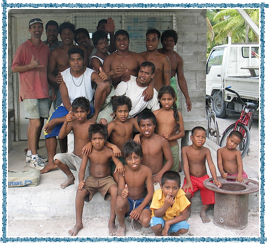 However that has led to an alarming problem of obesity and diabetes among the islanders.
In 2000, the island was given a large sophisticated diesel reverse-osmosis purifier, however diesel fuel is hard to come by on Fanning and it's never been used. This is the reason for Water For Life's long-term focus on sustainable development. Fanning Atoll has plenty of rain.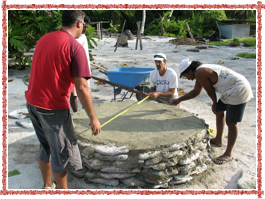 Allan and the team worked with the island's council to train islanders to build simple ferro-cement (concrete & wire) rain-catchment tanks that hold about 800 gallons each. They helped build a prototype tank at 3 clinics and a community center around this necklace shaped atoll. Plus they left a reusable plywood mold which would enable families to build their own water tank. The cement tanks need about $70 of materials, much less than the $800-1000 it costs to buy an equivalent plastic tank, and we are starting to see them multiplied as individual families can each collect and store sufficient safe drinking water.
GETTING THERE
There are great needs for health care and education as well, but we initially focused on clean water since just getting Fanning with supplies took almost a year of planning. The Kiribati airline had still to establish regular flights into a Christmas island 18 hours sail from Fanning, and trying to find a way to ship cement and plywood by plane and then by boat with each saying "we might go this week, or perhaps next week" was… character building.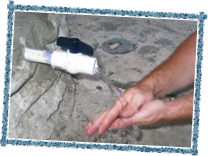 But there is a tour ship that sails between Hawaii's islands which every month is required to "leave the country" because they're not a US flagged ship…and so they sail two days to Fanning Atoll and stay five hours and sail two days back so they can say they've left the country.

They had never allowed a passenger to remain on the island for the weeks between visits and they really weren't crazy about messing with the Kiribati visas that would be required and having to transport our materials.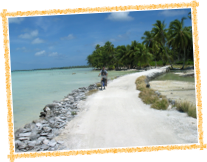 But nothing is impossible for God and after a year of prayerful engagement, their head office agreed to a trial run. But even as the team were purchasing tickets, the ticketing agent exclaimed, "You can't be booked on two different ships at the same time!" "But we're going down on one and coming back on another." "Oh, that's impossible!" But not for God!

The first trip, we did have a satellite phone, but for any medical emergencies, the team relied on Allan's medical experience, as there are no real evacuation options until the ship returned. One does feel a bit isolated

Since the our first trip, the Kona Water For Life team has followed up with 5 other teams. We have begun mapping and testing the existing water wells to monitor just how much of a threat they represent to the islander's health.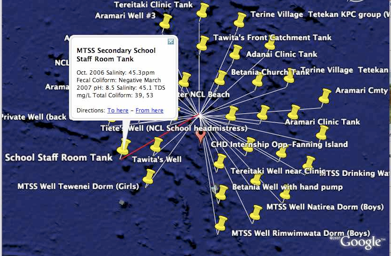 Fanning Island was where the women and children from Christmas Island were evacuated to during the US and British atmospheric nuclear tests in 1959 and 1962, so their interaction with outsiders has not always been the best.

Pray that lasting friendship and doors for effective ministry can be established and that God's kingdom, His good intentions for this precious people, could be demonstrated in such a way as to draw many to Himself.